Emergency Service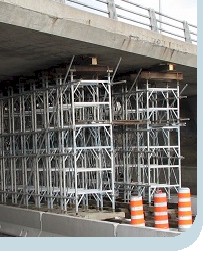 In emergency situations, the Universelle Rental team is distinguished by its flexibility, speed and expertise. Emergency teams are deployed as soon as possible during crisis situations, such as the 1998 ice storm.
Given the current state of our roads, emergency situations are mutliplied: the Deblois overpass, The Highway 25 / boul. Moody overpass, the Dorval traffic circle, the slumping of a structural slab on boulevard De Maisonneuve in Montréal and the slumping of the Olympic Stadium parking slab, near the Saputo Stadium in the summer of 2012.
Universelle Rental is proud to contribute to the temporary support of Québec infrastructures with its high-performance aluminum equipment.
We scaffold the future…
Emergency, evenings and weekends: 450-668-1851
---
We scaffold the future with our
aluminium products of superior quality.